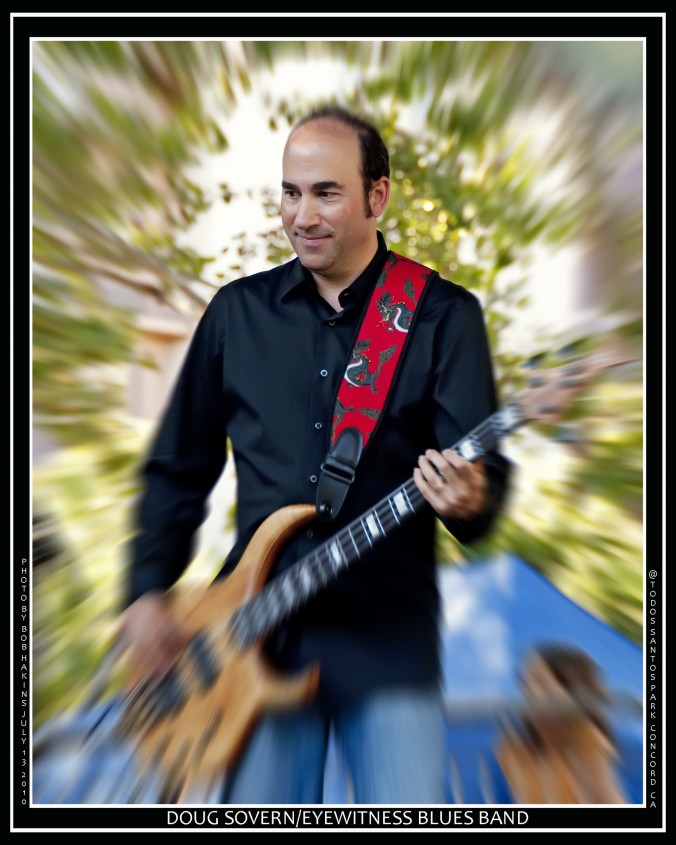 Music
For the SF Giants version of "Royals" please click on the ROYALS page.
Doug Sovern is a bassist and songwriter. He's been in a baker's dozen of bands since he started playing in high school (none of which was called Baker's Dozen). Those bands include The Edge (original name: Gang of Four; forced to change when it turned out there was already a band called that, who went on to great success); The Loose; Video Babies; The Convertibles; Trash; Base Two; Base Two Blues Band; The Magneetos (original name: The Smithereens; forced to change when it turned out there was already a band called that, who went on to great success); The Motion; Time Zero; Nice Boys From New York; Eyewitness Blues Band; and The Fallopian Dudes.
Doug has also played with many singer-songwriters, done session work and jammed or performed with all kinds of wonderful musicians, including George Harrison, Paul Simon, James Brown, Sun Ra, Henry Kaiser, members of the Steve Miller Band, Doobie Brothers and more.
He is currently bassist for the Eyewitness Blues Band, whose members are newspeople at KCBS Radio and KPIX TV in San Francisco, and The Fallopian Dudes, a casual group of players, many of whom are the husbands of ob/gyns (hence the name).  See the EBB's signature video on You Tube here.
From 1985-1990 he was in Nice Boys From New York, a rock band based in Berkeley CA, where his partner in crime in the rhythm section was drummer and piano player Howie Wyeth.  Howie was the drummer for Bob Dylan's Rolling Thunder Revue, playing on Dylan's chart-topping album "Desire," among others. Howie was the nephew of painter Andrew Wyeth, and also drummed for Robert Gordon and Link Wray before joining the Nice Boys. Sadly, Howie passed away in 1996.
NBFNY released one eponymous album and performed all over Northern California before disbanding. Music links to come.
One of his college bands, The Convertibles, was scouted for David Geffen by Chip Taylor of the Troggs, who wrote the hit songs "Wild Thing" and "Angel of the Morning" (Taylor's real name is Jim Voight; he is the brother of actor Jon Voight and the uncle of Angelina Jolie!). Ultimately, the band was not signed, but their four-song demo recording survives and can be heard here.
Doug was also bassist and principal songwriter for The Magneetos, a band based in Providence, RI that performed throughout New England in the early 1980s. Music links to come.
Doug also wrote an award-winning rap song, "Warriors Thing" for Kevvy Kev and the Golden State Warriors cheerleaders, which aired on MTV and during NBA games in the late '80s. Music link to come.
He also worked as a roadie and chaired the Brown Concert Agency while at Brown University, staging early-in-their-career shows by such bands as U2, Dire Straits, Talking Heads, the B-52s and many, many more, as well as working with established artists such as Bonnie Raitt, Little Feat, The Ramones and too many more to remember. If only people had been as photo-obsessed then as they are today, he would have amazing pictures to share, proving that he once had very, very long, thick hair.
Doug also writes and "sings" satirical songs about politics, which air on KCBS . For more on that, and to hear them, please click on the CAMPAIGN SONGS page.